Beauty
Dresses
Fashion clothing
tops
Beautiful Nightgowns for Women at Home
How can we feel comfortable and look feminine at the same time while at home? The answer to this question is very easy: by wearing a beautiful nightgown.
Nightgowns originate from the 17th and 18th centuries when they were worn by the members of the upper class. They were very popular in the 1950s and 1960s too and have made a big comeback in the past few years.
A nightgown resembles a casual dress if it's made out of cotton and it's a little bit sexier and revealing when made out of satin or silk. Either version is extremely comfortable and a great pajama option if you want to have a better sleep during the night.
How to choose your nightgown
Right now there are so many nightgown versions out there that makes it difficult to choose one. There are short, midi and long nightgowns all having various designs from sexy, to comfortable and cute and all made out of different fabrics like cotton, viscose, satin or silk. Even their sleeves come in various shapes. So, which one to choose?
Here are some of the best choices when it comes to beautiful nightgowns to wear at home!
1. The white flowy nightgown
This white and flowy nightgown made out of matte-satin is perfect for a feminine and comfortable home outfit. It has adjustable straps, it's large and allows you to move freely and the midi length it's just spot on. You will sleep better in it especially during hot summer days.
2. The satin midi nightgown
If you like satin and lace, you will love a midi nightgown with an elegant décolletage and sheer lace details. Inspired by the nightgowns women wore in the 60s, this nightgown will make you feel sensual and feminine. You will also love how soft the satin will feel on your skin!
3. The T-shirt nightgown with a message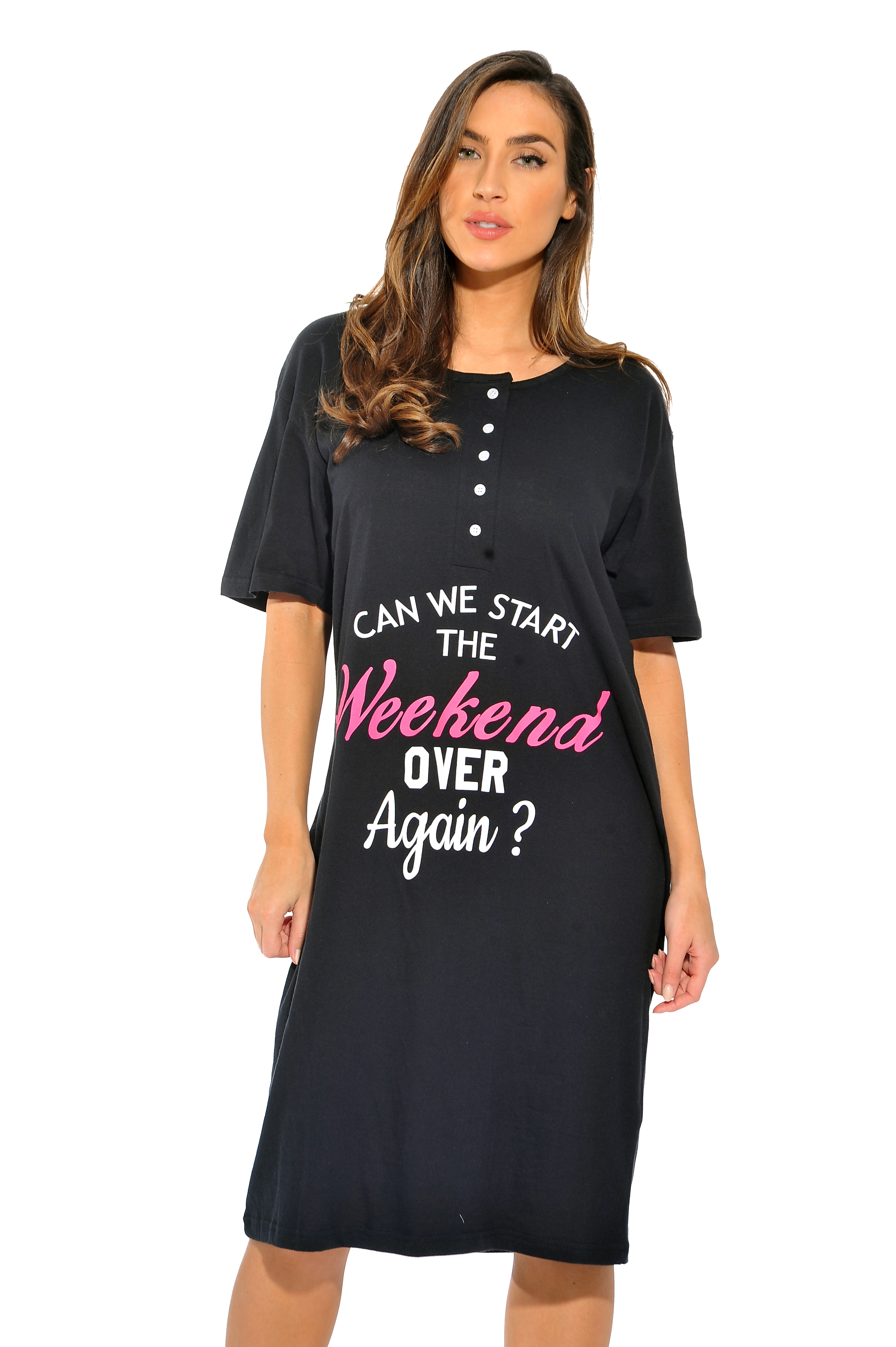 If you like pajamas and clothes made out of cotton with cute messages on them, you need this black short sleeve nightgown. It's a very comfortable sleep dress that you will love wearing at home and sleeping it it.
4. The long sleeve shirt nightgown
Do you want a nightgown easy to dress that will keep you warm? If the answer is yes, you will love the shirt nightgown. It has buttons in the front which will make it easy to put on and long sleeves, plus a beautiful red colour and cute white polka dots. It will be perfect to wear at home on chilly nights!
5. The short nightgown with floral print
Nothing is more feminine than a cute white nightgown with floral print. It has beautiful flutter sleeves and a flounce hem for extra cuteness. It is made out of cotton, so your skin will breathe and you will sleep better.