Beauty
Plus Size Lingerie: Top 10 Best Sexy Essentials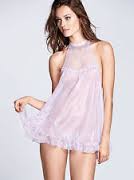 Have you ever noticed how different you feel wearing a red lace bra, instead of your perfectly fine, utilitarian, nude t-shirt bra? There's just something empowering about wearing sexy lingerie. Knowing you've got a little hidden secret underneath, gives you a boost, both literally and figuratively.
There was a time, and it wasn't too long ago, that it was nearly impossible to find beautiful, well constructed, sexy plus size lingerie. Thankfully, that's no longer the case, as women like us have demanded a change, and we have the spending power to create a retail transformation. Now you can find beautiful swimsuits, pants, dresses and sportswear that fit properly and look awesome. It's less about wanting to look sexy for our partners, although that's certainly a factor too. More importantly, we like to feel beautiful and look sexy in our skin, and that's a boost for anyone's self esteem.
Finding plus size fashions in mainstream categories is simpler. The search for beautiful plus size intimates proved to be a bit more arduous than expected. The fact of the matter is that sexy plus size lingerie has been slower to get to the marketplace. Thanks to companies like Torrid and Olga, along with a few others, there are lovely things to choose from. I was able to find gorgeous nighties, teddies, bustiers, bras and panties that even make me melt when I look in the mirror. I want you to have that same experience. Embracing our real bodies, and celebrating them for their unique beauty, in all shapes and sizes, should be a privilege and right for every woman. Cheers to us! Here are my picks for Plus Size Lingerie: Top 10 Best Sexy Essentials.
1. Best Sexy Plus Size Nighty: Torrid Lace Chemise
When it comes to sexy plus size lingerie, Torrid totally gets it. They're creating inspired and beautiful bras, panties and shapewear that you can feel beautiful about wearing. It's functional and feminine. This lace chemise is a perfect example, and a great way to spice up your nighttime look, even if you're home alone. The flattering style is made more perfect because it's designed with underwire cups that offer a little lift, and create a revealing neckline that's elegant, without over the top spillage. The nylon and spandex fabric means a simple handwash will keep it looking beautiful for the long haul. Pretty panties underneath would add a hint of allure to this lovely nightie. Add a sweet satin robe, and you've got the perfect evening ensemble.
2. Best Sexy Plus Size Corset: Daisy Corsets Women's Top Drawer Brocade Plus Size Corset
If you're on the lookout for a beautiful, waist cinching, boob lifting, plus size corset, this fuschia beauty should be on your list. This full bust corset is made of gorgeous, high-quality brocade fabric, trimmed in eyelash lace. The premium front metal zipper closure makes it easy to get into and out of, but the real clincher with this corset is that it features eight spiral steel bones, which means you'll get amazing support. Whether you wear this cute corset as inner wear or outer wear, you'll look and feel awesome, and with a 100 percent cotton twill liner, you'll feel comfy at the same time. This corset comes in eight beautiful colors, so pick the one (or more) that suits you best. Daisy's Beaded Corset offers a more embellished look, and the same great boning and support. Their Beaded and Lace Fishnet Corset is a more revealing option with a sexy eyelet and lace up closure.
3. Best Sexy Plus Size Teddy: Fantasy Plus Size Halter Romper Teddy
You'll look soft, flirty and fun in this adorable plus size teddy. You'd be hard pressed not to feel super seductive in this sweet ruffled romper. It's halter tie neck and cheeky cut bottoms are sexy and simple. The snap crotch closure makes it simple to get into and out of. The sheer fabric is light and airy while the flowey style is curve accentuating, and the elastic waist provides the perfect amount of shapely definition. The Stretch Lace Romper with Adjustable Waist is a lot more sheer, with a back side that's uber attractive. For bodysuit styling with a few awesome surprises, the Curvy Sherry Two Tone Lace Halter Teddy is a beauty. If you're to amp up your sexy teddy look, check the Sexy Curvy Sheer Halter Gartered Teddy.
4. Best Sexy Plus Size Babydoll: Velvet Kitten Pretty Plus Size Fire Floral Babydoll Set
The sweet, sexy little sleep set is soft and sensual. The plus size babydoll features a black mesh skirt, with elegant black and red lace at the bust. The halter top has a lace tie at the neck that allows you to cinch it up just right, and the black satin ribbon bow in front drapes to create a sweeping look. This babydoll set also includes a matching G-string, but you're looking for a bit more modest but still sexy panty, these high cut lace briefs are adorable. If you'd prefer flirty and fun, the plus size Garden Babydoll could be the perfect choice, and its underwire cups give your bust a beautiful look. The Off The Shoulder Babydoll offers a completely different look that's a lot more playful.