shopping
Pushing the limits of lingerie
The lingerie market is changing. Once dominated by a small number of big-name brands with relatively limited ranges of perennial staples, as consumer demands develop, the lingerie market is diversifying.
Market research company Mintel predicts the UK sector will grow by 11.4% between 2016 and 2021 to reach £3bn. And, as it grows, brands are reacting to shifting consumer needs and reflecting the wider industry demands for a more diverse offering of styles, shapes, sizes and colours.
Lingerie is often associated with a romantic, sexy aesthetic: strapping details, sensual lace fabrications and alluring silhouettes. While this remains a popular and dominant trend – brands such as Fleur of England, Coco de Mer and Dora Larsen are thriving – other areas of the market are also gaining momentum.
The hunt for comfort is a growing priority for lingerie shoppers, as shoppers eschew more rigid styles in favour of softer garments such as T-shirt bras.
"Across every fashion category, we're seeing increased demand for comfort and functionality and that's especially characteristic of lingerie," explains Katie Smith, retail analysis and insights director at retail data research company Edited. "Soft lines as a category in lingerie have grown enormously, incorporating sports bras, triangle bras and non-wired bras – there has been a 3,000% growth in the number of items stocked by UK retailers this year in comparison with the same period in 2015."
"People are looking for comfort," agrees Debby Duckett, buying director at Boux Avenue, which has 29 stores across the UK. "We've just launched a new T-shirt bra for autumn 18 with a super-soft cup liner and a soft-seal hook and eye. It's soft on the back and has no bone, so you don't get any bowing at the side." Duckett also flags the strong performance of the retailer's lounge bra, which is a non-wired bra that she describes as "ideal for the weekends or travelling".
However, Sophie Charlesworth, brand manager at lingerie agency Intimates Lingerie, which represents brands including Hanro, Commando, DKNY and Echo, points out that customers' expectations extend beyond comfort: "Customers want to feel comfortable in their lingerie, but also like they are wearing a luxury-feel fabric that is breathable but also feminine – and gives them support.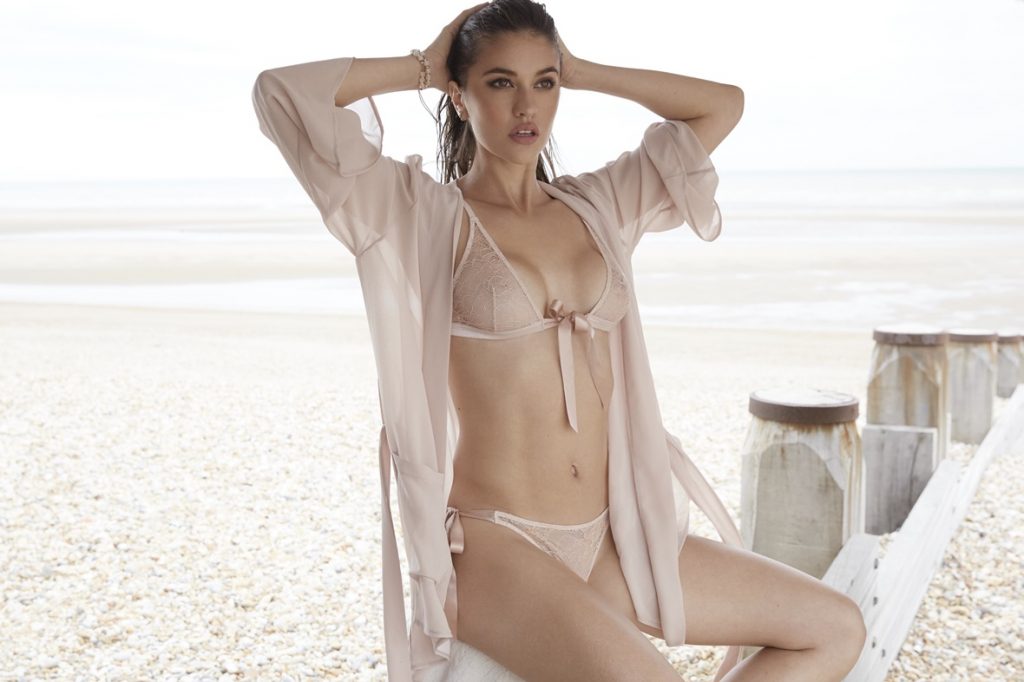 "Women want to feel like they are wearing a second skin when they are choosing their underwear. The new softer, more comfortable wires in underwired bras feel like you are wearing a soft cup, and the stretch that can be used in lingerie now makes bras a lot more comfortable than in previous designs."
Skin in the game
Another area of the market that is developing is the popularity of "nude" or skin-tone shades, alongside a new focus on styles that suit a more diverse and realistic range of people. Rather than focusing on traditional peachy tones, some brands are introducing a range of colours.
Although the provision for a range of skin tones is still limited, the movement has been slowly gathering momentum, starting with niche brands such as Bianca Miller London and Nubian Skin – both of which offer lingerie and hosiery geared to suit a wide range of skin tones.
In April, Asos launched a campaign to draw attention to the addition this type of lingerie to its offer: in blush tones and brown shades, rather than just peachy-beige.
Boux Avenue is also increasing its shade range, launching its new T-shirt bra in black, white and blush, as well as "cosmetic" tones called chocolate and bronze to match darker skin tones.
"There's a lot happening in the market around diverse colour range and we felt it was the right thing to do," says Duckett. "It was something that we have seen in the market – people dabbled with it briefly a few years ago, but there is so much more of it around now." Meanwhile, Edited reports new arrivals of "nude" tones in underwear were up 19.5% in the last three months compared with the same period last year.
"Nudes have grown hugely in the past three months. It may be the Kanye [West] effect [the rapper's collections for his fashion brand, Yeezy, are based predominantly on a skin-toned colour palette], but nudes in lingerie are growing," observes Emily Bendell, founder of lingerie brand Bluebella, which has more than 150 stockists, including John Lewis, Revolve and House of Fraser. "We've developed a colour called rose dust, which is not a nude but a neutral colour that would complement any skin tone."
In addition to a more diverse colour range, lingerie is also opening up to an increasingly diverse size range – and plus-sized and DD-plus sizes in fashionable styles are on the rise.
"Plus size is becoming more competitive, thanks, in part, to a shift in consumer values driving the body-positivity trend," says Smith. "As a result, we're seeing product trends move through this segment faster, and retailers increasing their size offering having truly considered the needs of the plus-size consumer fully."
Dean Cooper, commercial director of Wacoal Europe, which owns brands including Elomi, Freya and Fantasie, attributes this in part to social media: "Our fuller-figure brand, Elomi, is incredibly active on social media and really engaged – our social audience has almost doubled over the past year. Elomi is the brand that's seen the largest growth. It's also our fastest-growing brand."
Plus-sized or larger-busted customers are also now demanding more stylish, well-fitting product, as opposed to purely functional shapes.
Claudia Lambeth, founder of bespoke lingerie brand Luna Mae London, which creates custom, luxury lingerie from its store in London's Belgravia, explains: "I think plus-sized and solution lingerie has really grown in recent years.
"There is still a bit of disillusionment from the larger-busted ladies and those with a petite back size and large bust – there's not that much in the market. There is a lot more than there used to be, and I think that client is still looking for something a little bit special and not wanting to have to compromise on design."
The demand for diversity appears to be fuelling a strong growth in independent brands offering niche sizing or unique styling. Lara Intimates is one such brand that is building a following through providing a niche product with its eco-friendly, custom-sized wireless bras.
"I think it would be hard for the larger brands to tap into the need for diversity in lingerie," says co-founder Cindy Liberman. "Being a completely vertical company allows us to be really agile. Bigger brands can never tap into that. The volume that they require really limits them. I'm still surprised about how the high street brands seem blind to what is going on in the market. There are very few reacting to the fact that women want eco-friendly and they want body positive."